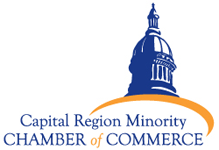 Capital Region Minority Chamber of Commerce Announces the 3rd Annual Diversity Summit
Trenton, NJ – The Capital Region Minority Chamber of Commerce presents the Third Annual Diversity Summit on Wednesday, May 3rd, 2017. The focus of this summit is REACHING OUT – Connecting with the LGBTQ Business Community.
The Summit will be held at The Educational Testing Service (ETS) – 660 Rosedale Road, Princeton, New Jersey. Registration, breakfast, and networking will begin at 8:00 a.m., with the Summit beginning at 8:30 a.m. Registration is $50. Sponsorships are available. The focus of the Minority Chamber is the continuous development of a diverse and inclusive business environment.
The Summit is open to business owners, human resources professionals, recruiters and anyone invested and interested in issues involving diversity and inclusion. This event will foster the exchange of new ideas and approaches, best practices in the development meaningful and impactful diversity and inclusion strategies for your business.
Greg Johnson, Chairman of the Diversity Summit Program states, "Our previous summits were a great success and we are pleased with our line-up of subject matter experts for this 3rd annual event including a keynote by Gwen Marcus, Executive Vice President & General Counsel of Showtime Networks. Gwen will share her success in overcoming obstacles in her career journey as a lesbian and, woman in a male dominated field.
This half-day event is produced with the support of our Panel Sponsor – Educational Testing Service (ETS) and our Supporting Sponsors: the American Conference on Diversity, the Lower Bucks County Chamber of Commerce, the MIDJersey Chamber of Commerce, the New Jersey Business & Industry Association, the New Jersey LGBT Chamber of Commerce, the Princeton Regional Chamber of Commerce, and the Delaware River Towns Chamber of Commerce.
"We sincerely appreciate our sponsors and their commitment in support of this informative and important event." states Herb Ames, Acting President of the CRMCC.
Below are more event details and the subject and participants for the two panel discussions.
Panel Discussion #1
OUT AT WORK – Building Inclusive Workplaces
• Ron Davis, Director of Diversity and Community Development, Parx Casino
• Nikki DiCaro, Author, Speaker, Advocate – CEO, DiCaro Consulting
• Terry Albarella, PRIDE Prudential Employee Resource Group
Discussion moderated by Elizabeth Williams-Riley, Executive Director, American Conference on Diversity
Panel Discussion #2
BUSINESS AND THE BOTTOM LINE – The Power of Inclusive Business Strategies
• Tom Gilmour, Executive Director, Trenton Downtown Association
• Jacqueline Tillmann, Principal and Owner of Lewis Tillmann Law Offices
• Rick Battaglia – Executive Vice President & Chief Retail Officer, Bucks County Bank
Discussion moderated by Amy M.B. McKenna, President, Lower Bucks County Chamber of Commerce